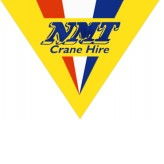 View Larger Map
Categories
About
NMT Crane Hire was established in 1976 and celebrates its 40th anniversary in 2016. Founded by Nick, Mark and Tim Ambridge (hence the name NMT) the company was originally set up as a recovery company based in Bedford. The use of cranes within that company soon encouraged the brothers to purchase further machines and the growth of NMT began.

At NMT, we hire only professional people, with a healthy balance of youth and experience amongst our ever-expanding team. Working only to the highest standards, we bring in more than 40 years of experience to every project we undertake, ensuring we not only meet but also exceed the majority of our customers' expectations.

In order to meet our customers rapidly changing business requirements, we continually invest in the latest technology. In recent years NMT has built up an impressive fleet of All Terrain Mobile Cranes. In fact, the company has invested over £15 million in the last 5 years alone in crane hire and haulage hire in the UK.